Guerilla Hiring in Ed Tech: Tips and Tactics
A Strategic Primer by HighFive Partners.
Leaders of Ed Tech startups face a constant imperative to make quality hires to support growth, scale up vital business units, and begin defining the desired company culture. They're facing this challenge in a hyper-competitive hiring market where Ed Tech startups have to win top talent while competing against bigger companies with more capital and a greater ability to make riskier bets on key hires. This challenging market means that:

Attracting the right talent purely through premium compensation may not be financially feasible and is unlikely to be a winning strategy.

A strong personal fit for the startup working environment is essential to retain skilled talent and limit costly turnover.

Ed Tech leaders need a hiring strategy that actually reflects this strategic landscape by leveraging the advantages held by startups wherever possible.


This challenge is only compounded by the tightest national labor market in over a decade. Coupled with a dramatic influx of capital in Ed Tech, this tight labor market is driving a true candidate's job market. Indeed, hiring is a challenge for any early-stage enterprise. A recent survey conducted by the startup financing agency First Round showed "Hiring the Right People" as the issue concerning the highest percentage of startup founders. And this challenge is even more substantial in Ed Tech, where large-scale sources of in-industry talent are still being developed.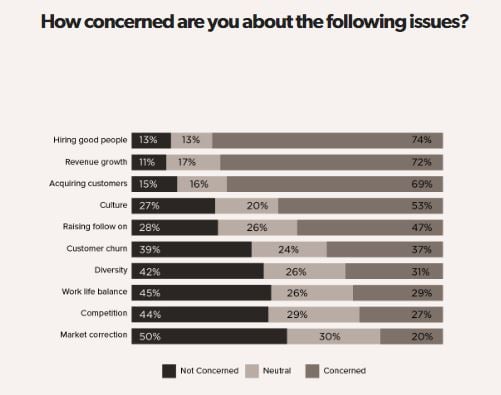 Source: FirstRound State of Startups Survey
In a more established industry, large, well-capitalized firms tend to function as fruitful talent pipelines for the broader industry. In addition to investing in human capital development and training over the long term, these big industry players also serve as a natural source of experienced leaders for smaller startups: lower level managers may jump at the chance to assume a more advanced position at a smaller company. In Ed Tech, these large, established talent sources are only now starting to emerge. With an accelerating demand for Ed Tech talent and a comparatively limited supply of experienced professionals from within the industry, startups face an imperative to creatively source potential Ed Tech talent from other industries.
Startups hiring in Ed Tech may seem to be in an unenviable position. But, for the right candidates, the high-growth, socially impactful Ed Tech industry can be an ideal fit. In this marketplace, finding and winning over these candidates requires a thoughtful approach to selling the startup working environment, a creative approach to sourcing talent, and a willingness to leverage the executive commitment to hiring operations that only startups can provide.
Below, we highlight some key tactical tips for navigating this challenging market to find talented professionals who are well suited for the unique working demands of the startup environment.
Flexibility and Work Life Balance: More and more workers are proving enthusiastic about sacrificing some compensation for a more flexible working environment. This can take the form of alternative working arrangements like telecommuting and remote work--or simply allowing new hires to access a generous PTO package.

In many cases, this flexibility is not only useful for attracting candidates, but fits nicely with broader concerns for a growing business. Remote workers, for instance, can cut down on office space costs.

A Personalized Hiring Process: a smaller, growing company offers a unique work environment where a much higher portion of employees get to interact with executives and other key-decision makers. The ability to engage with the company's decision-making process is a key feature of a smaller organization (and an advantage that can and should be leveraged in the hiring process).

Personal contact from executives, for instance, can get the attention of prospective candidates, demonstrating a level of access that larger employers can rarely match. And this executive contact isn't just a sales tactic, but representative of the actual startup working environment.

Selling the Opportunity to Make an Impact: The ability to make an impact is one of the most important deciding factors for professionals who ultimately choose a smaller employer. This interest extends to both a business impact (doing meaningful work that's vital to the organization's success instead of feeling like a cog in the machine) and a social impact (the chance to work in pursuit of Ed Tech's broader social goals).

Larger competitors will have trouble matching this particular advantage, no matter how deep their coffers: it's difficult to make members of a 10,000+ person team feel as individually impactful as professionals at a much smaller startup.

Leveraging Your Personal Network: Reliance on the personal network of startup leaders is both an essential foundational resource for hiring and a limitation that ultimately needs to be grown past. A survey conducted by Indeed.com shows that personal acquaintances are still easily the dominant sourcing method employed by smaller companies. This practice is perfectly logical: executives have much better knowledge of the values and performance capabilities of professionals in their own network.

Even for startup leaders with the largest personal networks, however, a deliberate move beyond this strategy is essential. In addition to limiting growth, drawing too much talent from a single source risks limiting the diversity of experiences and skills being integrated into your startup's culture

Selling the Escape from Bureaucracy: Sprawling bureaucracy is an unavoidable fact of working at larger organizations. A stroll down the hall to chat with HR turns into a series of formal web portals. A weekly working lunch on marketing strategy turns into a massive videoconference. These realities of managing a business at scale are acceptable to many professionals; others, however, chafe at the time demands of growing bureaucracy, formality, and specialization.

These professionals can be an ideal target for startups--they're eager to take on multiple roles, want to prove they can succeed without micromanagement, and just like getting things done. This escape from forms and massive meetings is a vital feature of the startup environment and needs to be sold as such.
Turning quality startup hiring into a long term competitive advantage
So far, we've framed these startup hiring tactics as an approach to overcome the disadvantages faced by Ed Tech startups--less capital, less tolerance for risky hires, and less access to pre-established talent pipelines.
Ed Tech startup leaders should also focus their hiring strategy to leverage one of the key opportunities possessed by smaller, growth-stage companies: the ability to hire individuals who are tightly aligned to the company's vision for its culture and values. Greater executive engagement in the hiring process affords the chance to make fine-grained evaluations of individual candidates--a luxury that won't necessarily persist as the company grows. This opportunity should be taken advantage of wherever possible, as startup-stage hires go a long way toward defining company culture for years to come.
For this reason, company values need to be an essential part of the discussion both when deciding on a search strategy and communicating with potential candidates. A discussion centered on company values not only helps find an ideal fit but can act as a selling point for professionals eager to work somewhere that values their unique contributions to the company culture.
A recent survey conducted by LinkedIn compared the motivations of professionals employed at small/medium businesses and larger enterprises, asking about the importance of various value propositions when selecting an employer. The biggest divergences between SMB professionals and pro's at larger firms confirm the validity of the above tactics. This data suggests that SMB professionals focus less on compensation and job security, and more on:

"A company with a purposeful mission."

"A role that meaningfully impacts the company's success."

"Open and effective management."
As we've seen, these are all features that Ed Tech startups can provide. The key becomes defining a hiring process that actually reflects the advantages held by startups in a highly competitive hiring market. If startups can build out that process successfully, the talent market in Ed Tech becomes just one more hurdle to sail over on the way to a growing enterprise.